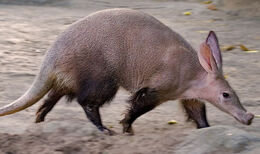 The 
aardvark
is a medium-sized, burrowing, nocturnal mammal native to Africa. Sometimes called "earth pigs" aardvarks are the only living species of the order Tubulidentata, although other prehistoric species and genera of Tubulidentata are known. Unlike other insectivores, it has a long pig-like snout, which is used to sniff out food. It roams over most of the southern two-thirds of the African continent, avoiding mainly rocky areas. A nocturnal feeder, it subsists on ants and termites, which it will dig out of their hills using its sharp claws and powerful legs. It also digs to create burrows in which to live and rear its young. It receives a "least concern" rating from the IUCN, although its numbers seem to be decreasing.
Aardvarks live throughout Africa, south of the Sahara. Their name comes from South Africa's Afrikaans language and means "earth pig." A glimpse of the aardvark's body and long snout brings the pig to mind. On closer inspection, the aardvark appears to include other animal features as well. It boasts rabbitlike ears and a kangaroo tail—yet the aardvark is related to none of these animals.
They spend the hot African afternoon holed up in cool underground burrows dug with their powerful feet and claws that resemble small spades. After sunset, aardvarks put those claws to good use in acquiring their favorite food—termites. While foraging in grasslands and forests aardvarks, also called "antbears," may travel several miles a night in search of large, earthen termite mounds. A hungry aardvark digs through the hard shell of a promising mound with its front claws and uses its long, sticky, wormlike tongue to feast on the insects within. It can close its nostrils to keep dust and insects from invading its snout, and its thick skin protects it from bites. It uses a similar technique to raid underground ant nests.
Female aardvarks typically give birth to one newborn each year. The young remain with their mother for about six months before moving out and digging their own burrows, which can be extensive dwellings with many different openings.
Aardvarks live for up to 23 years in captivity. Its keen hearing warns it of predators: lions, leopards, hunting dogs, hyenas, and pythons. Some humans also hunt aardvarks for meat. Aardvarks can dig fast or run in zigzag fashion to elude enemies, but if all else fails, they will strike with their claws, tail and shoulders, sometimes flipping onto their backs lying motionless except to lash out with all four feet. They are capable of causing substantial damage to unprotected areas of an attacker. They will also dig to escape as they can, when pressed, dig extremely quickly. Their thick skin also protects them to some extent.