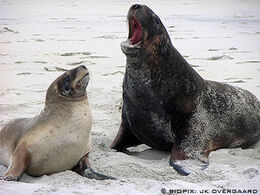 The Hooker's sea lion (Phocarctos hookeri), also known as New Zealand sea lion, and whakahao in Māori, is a species of sea lion that primarily breeds on New Zealand's subantarctic Auckland and Campbell islands and to some extent around the coast of New Zealand's South and Stewart islands. The New Zealand sea lion numbers around 10,000 and is perhaps the world's rarest sea lion species. They are the only species of the genus Phocarctos.
New Zealand sea lions are one of the largest New Zealand animals. Like all otariids, they have marked sexual dimorphism; adult males are 240–350 cm long and weigh 320–450 kg and adult females are 180–200 cm long and weigh 90–165 kg. At birth, pups are 70–100 cm long and weigh 7–8 kg; the natal pelage is a thick coat of dark brown hair that becomes dark gray with cream markings on the top of the head, nose, tail and at the base of the flippers. Adult females' coats vary from buff to creamy grey with darker pigmentation around the muzzle and the flippers. Adult males are blackish-brown with a well-developed black mane of coarse hair reaching the shoulders. New Zealand sea lions are strongly philopatric.
Community content is available under
CC-BY-SA
unless otherwise noted.